Мы, русские, вообще большие любители традиций, как тех, которые достались нам от наших достославных предков, так и тех, которые породили сами и которые прошли апробацию временем. Празднование Нового года не избежало этой участи, ну а какой же традиционный Новый Год без не менее традиционных "Оливье" и Селёдки под шубой", это примерно тоже, что говорил, перефразируя, один из наших любимых героев комедии Гайдая, предлагая тост под бокал вина: "Новый Год без "Оливье" и "Селёдки под шубой", как брачная ночь без невесты!"
Сколько в России домохозяек, столько и рецептов приготовления этой вкуснятины, НО … есть у каждой из них свои секреты. Для тех же, кто хочет иметь перед глазами рецепты этих блюд и особо не заморачиваться, предлагаю удобное и простое наглядное пособие в виде инфографики от кухни популярной газеты "Аргументы и Факты".
И помните, Друзья мои, простую истину, которую изрече многоуважаемый мною Президент петербургской гильдии шеф-поваров Илья Лазерсон (кстати, советую познакомиться с ним, особенно тем, кто находится ещё только в начале тернистого и увлекательного пути в мир Кулинарии):
"Любой рецепт — это всего лишь основа блюда, а потому экспериментируйте в его рамках и помните:

Категоричность в кулинарных делах не допустима, при изготовлении еды всегда должны быть элементы импровизации! Кулинария больше искусство, чем наука и постигается годами».
Оливье по-советски: только дефицитные продукты
8 декабря 2014 г.
    Автор: Мария Тихменева
Дизайнер: Ирина Белова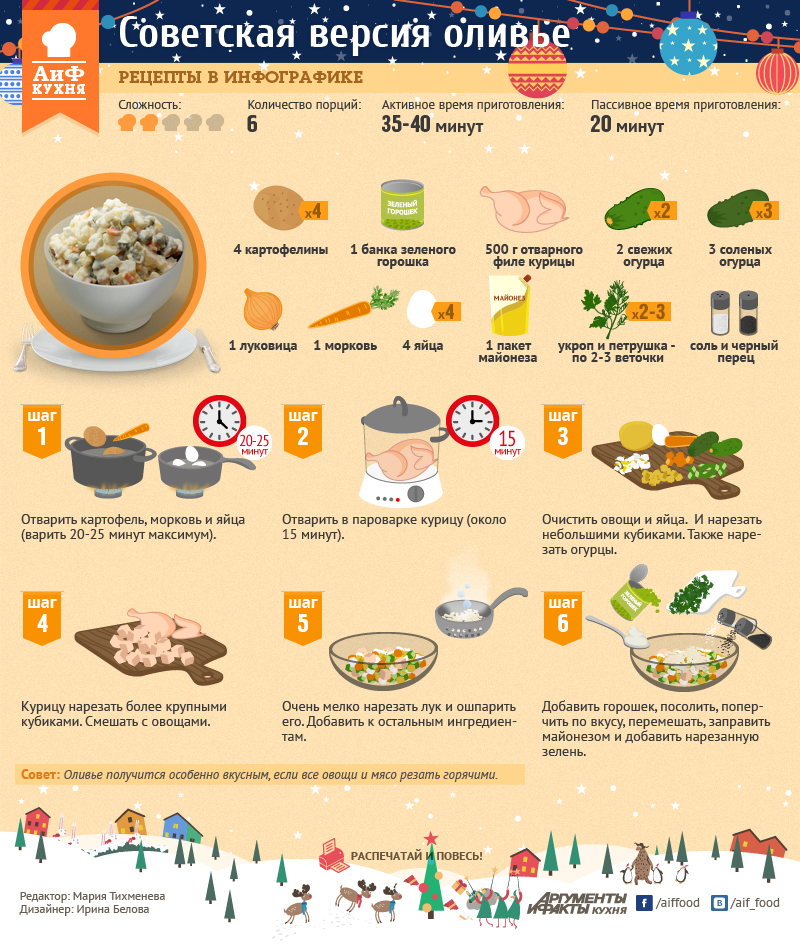 Он завоевал сердца во второй половине XIX века, был восстановлен в начале ХХ веке, а потом пропал на долгие 50 лет. И только в 50-х годах вернулся и стал украшением новогоднего стола советских граждан, с колбасой, заводским майонезом и жутко дефицитным зеленым горошком.
* Для просмотра иллюстраций наведите курсор на изображение и щёлкните правой клавишей мышки. Откройте изображение в новой вкладке. Для полноформатного просмотра на открывшееся в отдельной вкладке изображение наведите курсор и щёлкните левой клавишей мышки.
* To view the illustrations, move the cursor over the image and right-click the mouse. Open the image in a new tab. For full-length viewing on the image opened in a separate tab, move the cursor and click the left mouse button.
P.S. от Admin
Один из секретов от моей жены: все ингредиенты должны быть порезаны как можно мельче (настолько, насколько хватает вашего умения и терпения), при этом они хорошо пропитываются майонезом. Салат от этого только выигрывает и приобретает богатый и насыщенный вкус. Это же касается и "Селёдки под шубой".
Как приготовить селедку под шубой
1 декабря 2013 г.
     Автор: Мария Тихменева
Дизайнер: Александр Минибаев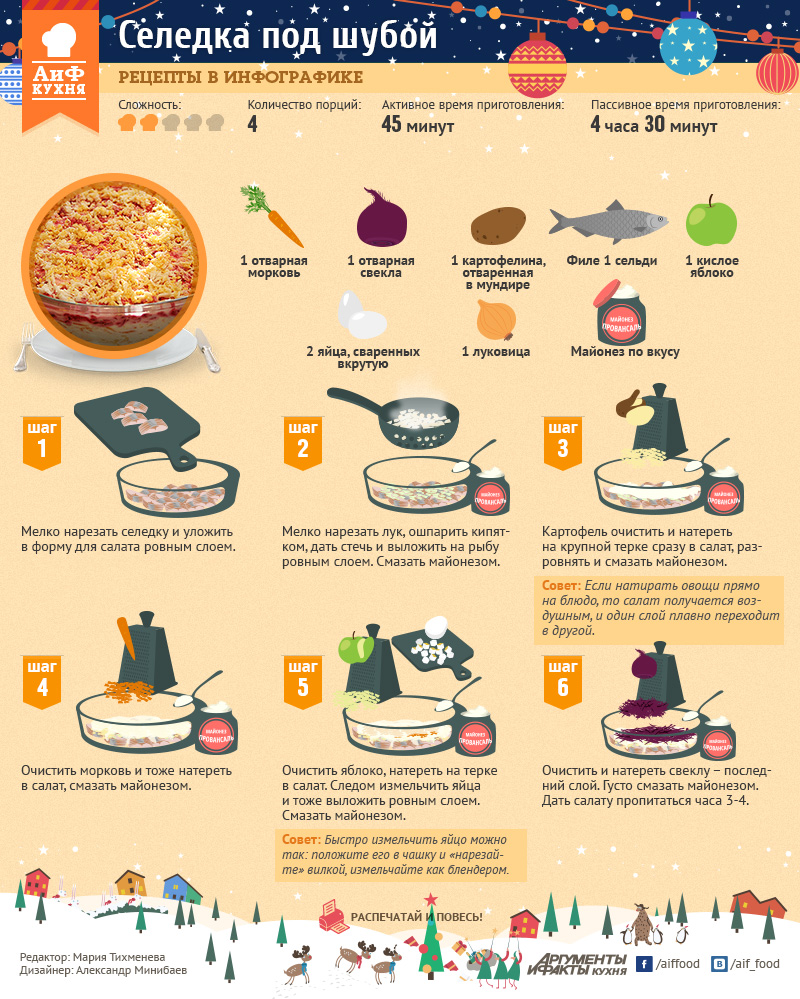 Легенда гласит: купец Анастас Богомилов, желая спасти свои трактиры от пьяных погромов и почеркнуть свою лояльность революции (а дело было в 1918 году) ввел в меню новое удивительное блюдо – салат из сельди, картофеля и свеклы, заправленный соусом провансаль.
Это блюдо придумал один из поваров – Аристарх Прокопцев. Сочетание продуктов в салате было символичным: сельдь – была излюбленным блюдом пролетариев, картофель ассоциировался с крестьянами, а над ними реяло красное знамя – свекла. Салат был назван Ш.У.Б.А. – «Шовинизму и Упадку – Бойкот и Анафема». Он был подан к новогоднему столу 1919 года и так понравился посетителям, что те забыли про пьяные драки.
Легенда эта история или нет, но только  салат из сельди с овощами появился в Советском Союзе только в 60-х годах прошлого века, а стал бешено популярным в 70-х. Теперь это традиционное блюдо для празднования Нового года, именуемое «Селедка под шубой». Основные компоненты – сельдь, картофель, свекла и майонез. Часто добавляют яйца, репчатый лук, морковь, иногда даже яблоки.
Метки: "Оливье", "Селёдка под шубой", готовим, дом, инфографика, Мария Тихменёва, Новый Год, рецепт, салат, традиция